Featured Book
Who Will Teach The Children? Recruiting, Retaining and Refreshing Highly Effective Educators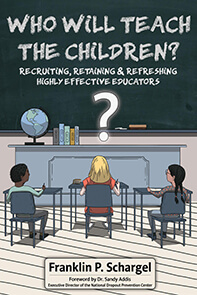 Teachers and school administrators are leaving the field of education almost as quickly as Schools of Education are preparing them. According to research, 44% of educators leave the profession within five years raising the question of
Who Will Teach The Children?
The book will not only pose the question but also supply the answers to:
Why are educators leaving? (It's not mainly about salary)
What, if anything, can be done to retain them?
How do we slow the educational exodus?
What states are most affected?
What subject areas face the greatest shortages?
What are schools and states doing to fill the void?
How do we create a globally competitive school system?
Other Books
Creating Safe Schools: A Guide for School Leaders, Teachers, Counselors, and Parents
Students, parents, and school staff deserve a safe learning environment. Yet recent headlines of violence, bullying, and drug abuse...
Dropout Prevention Fieldbook
A book of action – tools, tips, worksheets, and checklists. There are 71 best practices from practitioners in the field to practitioners...
Schools Where Teachers Lead
Develop shared leadership and teacher leadership in your school with the real-world, on-the-job ideas in this book. Principals and...
162 Keys to School Success: Be the Best, Hire the Best, Train, Inspire and Retain the Best
Find out how to keep your best teachers on staff, and make sure your new teachers stay motivated beyond their first years on the job....
Creating School Cultures That Embrace Learning: What Successful Leaders Do
There are three things which will improve schools.  The first was addressed in our book, From At-Risk to Academic Excellence: What...
152 Ways to Keep Students in School: Effective, Easy-to-Implement Tips for Teachers
This exciting book has been designed to provide field-tested ideas about working with at-risk students. Designed to be read and implemented...
From At-Risk to Academic Excellence: What Successful Leaders Do
This book brings together the wisdom and experience from over 50 schools that have been categorized as "high performing, high...
Best Practices to Help At-Risk Learners
This book presents 46 research-based tools, worksheets, and resources which have been field-tested at schools and dropout prevention...
Helping Students Graduate: A Strategic Approach to Dropout Prevention
This book describes the fifteen strategies identified through research reviewed by The National Dropout Prevention Center and Network...
Dropout Prevention Tools
In print and on CD-ROM, this book presents resources and worksheets used at schools and communities across the country. These tools...
Strategies to Help Solve Our School Dropout Problem
Data driven and research based, this book will help you reduce the number of young adults who leave school without completing a high...
Transforming Education Through Total Quality Management: A Practitioner's Guide
Franklin P. Schargel's popular book on Total Quality Management (TQM) in Education. This book offers a detailed account of the...