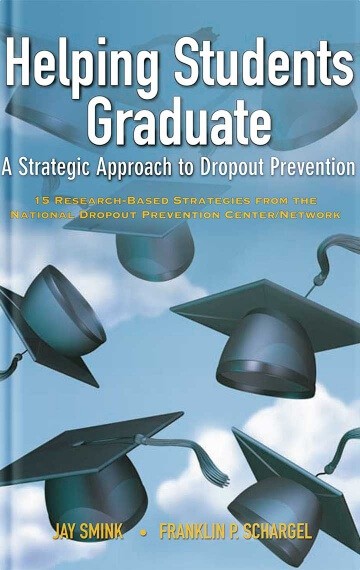 Available in:

Paperback, Kindle, iBook

ISBN:

978-1930556751

Published:

February 16, 2004
Buy on Amazon
Buy Kindle eBook
Buy Apple iBook
A Strategic Approach to Dropout Prevention
This book describes the fifteen strategies identified through research reviewed by The National Dropout Prevention Center and Network at Clemson University. Each chapter in this book was written by a nationally recognized authority in that field.
Research has shown that these 15 strategies have been successfully implemented:
In All School Levels From K – 12

In Rural, Suburban, and Urban Centers

As Stand-alone Programs or as Part of Systemic School Improvement Plans.
Helping Students Graduate: A Strategic Approach to Dropout Prevention also covers:
No Child Left Behind and its Effects on Dropout Rates
Dealing with Hispanic Dropouts
Differences and Similarities Between Rural and Urban Dropouts
These fifteen strategies have been adopted by the U.S. Department of Education. They are applicable to all students, including students with disabilities.