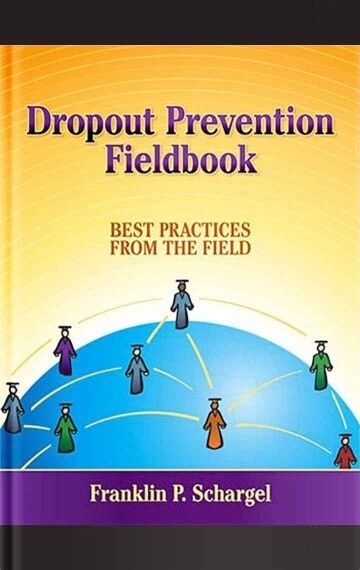 Publisher:

Routledge

Available in:

Paperback, Kindle, iBook

ISBN:

978-1596671911

Published:

September 2, 2011
Buy on Amazon
Buy Kindle eBook
Buy Apple iBook
Best Practices from the Field
A book of action – tools, tips, worksheets, and checklists. There are 71 best practices from practitioners in the field to practitioners in the field. The book is designed to reduce your school's dropout rate, help improve teaching and learning, and develop stronger relationships with parents and the community. This book showcases the collected efforts of dedicated educators from across the country, selected and presented by, Franklin Schargel. Easily indexed according to strategy, grade level, and job title, it allows for quick access to tools, tips, worksheets, and checklists including:
Graduation Credit Cards
Ninth-Grade Academies
Early Warning Signs Matrix
Deterring Truancy User-Guide
Student Action Plan Agreement
and more!
The Dropout Prevention Fieldbook: Best Practices from the Field addresses a broad range of educational challenges, including school safety, cyberbullying, and poor attendance. Teachers, administrators, counselors, and special educators can use this book to predict and prevent student dropouts, improve the quality of their schools and raise student achievement.
Book Contents
Free Downloads
Foreword
Introduction
15 Effective Strategies
Family Engagement
Early Childhood Education
Early Literacy Development
Mentoring and Tutoring
Service Learning
Alternative Schooling
After-School Opportunities
Professional Development
Educational Technology
Active Learning
Individualized Instruction
Career and Technical Education
Systemic Renewal
School-Community Collaboration
Safe Learning Environments
Index By Strategy
Index By Grade Level
Index for Administrators
Index for Counselors
Index for Special Educators